As the market surrounding automotive manufacturing changes, AirBoss continues to innovate and drive to succeed, thanks, in part, to tried-and-tested manufacturing practices and quality products.
"Everyone is talking change while our commodity base remains stable," says Jon Harst, Vice President of Sales and Business Development for AirBoss of America "We are just innovating the way we manufacture."
The change Harst is talking about is the shift toward electric vehicles (EVs) and the impact this is expected to have on traditional manufacturers. For AirBoss, the EV emergence is just another challenge the company believes it has turned into an opportunity.
AirBoss Diversifies While It Remains Consistent
While we began as a traditional rubber compounding and manufacturing company, over the years, we have entered a number of markets across a broad spectrum of industries.
AirBoss of America Corporation subsidiaries now include:
These subsidiaries produce world-class military and defense solutions, industry-leading custom rubber compounds, and advanced anti-vibration components.
AirBoss products range from highly customized rubber compounds to molded and manufactured products. Examples include rubber compounds for heavy-duty tires for commercial vehicles, almost everything rubber used in a consumer vehicle chassis, molded personal protective equipment like boots and respirators, and more.
Regardless of what market we are addressing, AirBoss has been consistent as we strive to design, create, and market rubber products that our customers want. We attribute this to a strong business model and a reliable product offering.
"We're stable," offers Harst. "The transition to EV isn't going to make us change our core business, but it does provide us the platform to go after specific EV parts."
AirBoss Can Help Bring Your Products To Life
EV and AirBoss: New Vehicles, Business As Usual
Some automotive parts manufacturers are facing an uphill struggle to stay relevant and competitive in an emerging EV market. Harst points to exhaust manufacturers and the lack of need for those kinds of components in electric vehicles. These types of manufacturers must now consider manufacturing completely new components to stay competitive.
For AirBoss, not much is expected to change, however. And that's a good thing for both the company and its customers.
"A lot of our products aren't really transitioning," explains Harst. "We believe AirBoss is in a good position because a lot of the products we currently supply to automotive are still supplied on EVs and aren't going through some of the transitions that other suppliers have to go through."
Harst gives a car's chassis as an example. Most, if not all, of the components AirBoss manufactures for a traditional vehicle chassis are the same components that modern electric vehicles also use.
This preserves manufacturing stability for AirBoss. The company doesn't need to transition to a new type of product or manufacturing method, we'll continue supplying high-quality components to emerging EV markets.
"We believe AirBoss's core business transitions easily to EV," says Harst. "So, we're still a good company to invest in or develop new products with. Or, if you're a current EV startup looking for a good, solid chassis, we believe we're perfect for that."

"Because of our product portfolio," adds AirBoss VP of Engineering, Jeff Auten, "we're in a good position to help our current customers develop their EV lines, and we're in a good position to help new EV OEMs with the development of their vehicle."
Both Harst and Auten agree that transitioning into the EV market is expected to be easy for AirBoss.
"Other companies are [saying that] transitioning to EV is such a hard thing and is such a big tear-up," explains Harst. "For AirBoss, it's just business as usual."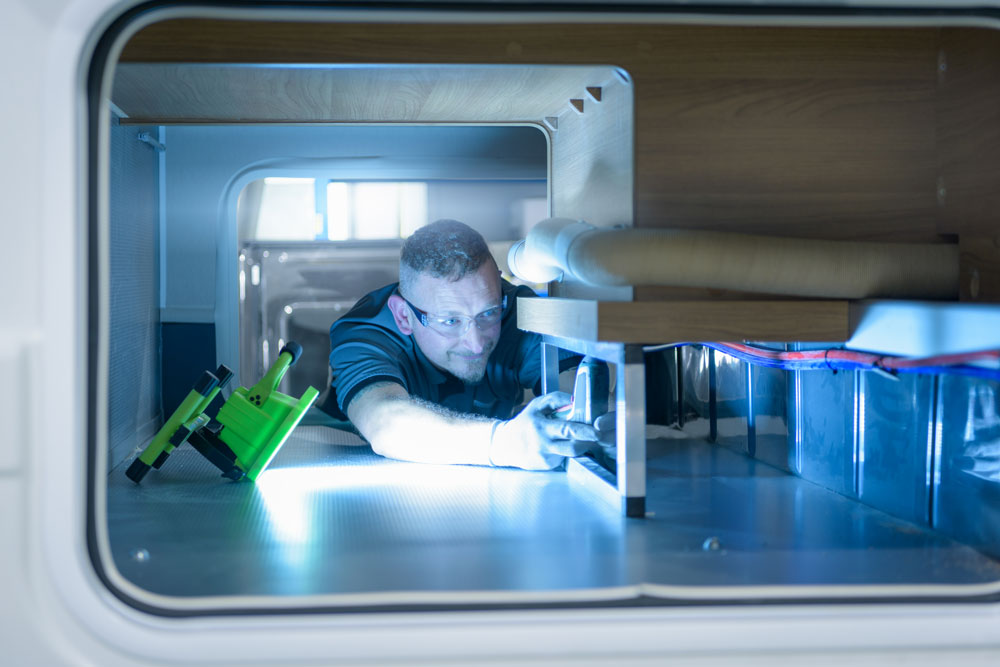 AirBoss Anticipates EV Market Potential and Challenges
AirBoss vehicle components carry over virtually unchanged to the electric vehicle components market. This means the company expects to be positioned to capitalize on emerging technology without having to make costly changes to already established manufacturing foundations.
That said, the evolution of the EV market presents unique challenges and opportunities for companies like AirBoss. Not only are we positioned to provide necessary components, but we believe the company is primed to take advantage of manufacturing opportunities as the EV market continues to grow.
Both Harst and Auten are confident that AirBoss's product and compound development expertise are well-suited to address evolving EV challenges like noise, vibration, and harshness.
"A lot of these EV vehicles haven't matured enough in the market to understand higher frequency issues that they might start to have due to vibration and the noises that come from the powertrain unit of the EV," says Harst. "They're going to put us in a very good position to help them solve [these problems]."